We look forward to hearing from you and helping you in your search for a mattress set that meets your specific needs.
We can offer instant credit approval through Crest Financial Here and in Spanish Here .
We offer up to 12 months financing with a 90 day NO INTEREST option.
As a locally owned company, we offer services with integrity and respect; just how we would like to be treated. Regardless of your budget and needs, we will do our best to help you get what you want. We believe improving your sleep can improve your lifestyle. Call us to set up a time to pick your favorite mattress at 828-414-1894.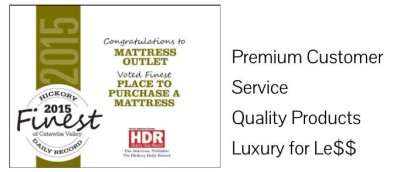 Let us know how we can help.
We understand its a big decision! Choosing the correct mattress can contribute to a great night's sleep. More importantly, a great night's sleep can improve health, performance and life in general. Our many years of experience have taught us how to address the individual needs of each of our customers and to provide Superior Customer Service and Privacy while you try the mattress and pick your favorite. Just more reasons we meet our customers one at a time "by appointment.
Get a Great Quality Mattress Set From Us.
The manufacturers we partner with produce Premium High Quality Bedding Products you can find under Private Labels in some of the best nown Department and Mattress Stores in the country.
Mattress Outlet in Hickory, NC offers HUGE DISCOUNTS to the public. All merchandise arrives NEW at the store on a WEEKLY basis, directly from well know, National Manufacturers and is made in the USA. We NEVER sell used or refurbished merchandise. Valid Warranties are included in your purchase.
Like & Follow us to keep up to date on our Events and Special Offers @ Facebook.com/MattressOutletHickory (Be sure to take a look at the pictures & REVIEWS of many of our HAPPY Customers.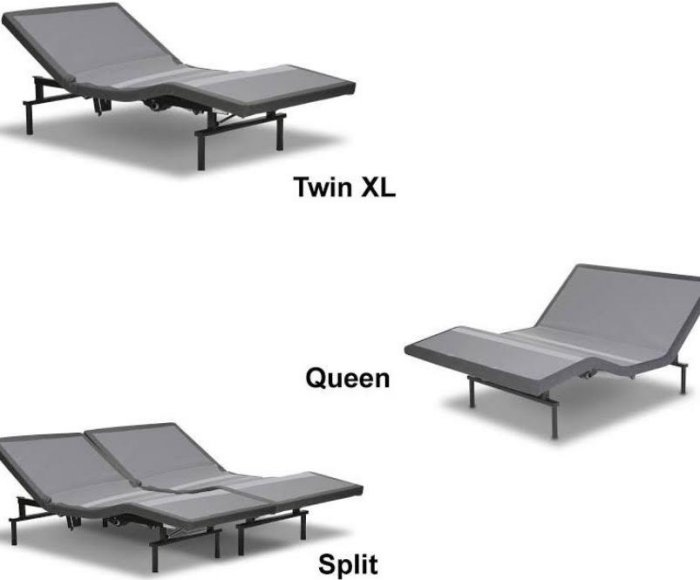 ---
"As simple as calling them and setting up a time to go by and try beds out. They don't have many beds. But all of their beds are great. And great prices. I'm very pregnant and sleep like a baby. I know its because of the memory foam with cooling gel we purchased that day. Look online and see the prices from manufacturers (ours was Nature's Sleep). We saved close to $800! They even delivered it at night with a personal vehicle the same day so we could sleep on it right away"
- Summer Angelice Yancey

"We drove from Salisbury and were a little late getting there but they were very welcoming when we arrived. They explained the different mattresses and comfort levels accordingly. I have had the best sleep with my new mattress that I purchased from Mattress Outlet. They are great to work with. I will definately be back. Thank you.
- Tiffany Castello

"Than you, we just want to say we love the mattress! Your customer service was wonderful. Thank you again. We've slept great ever since we bought our memory foam! Love it!"
- Chris H.

"Bought a mattress just before Thanksgiving. I really loved the quality and price. I really enjoy seeping on it. Definately would recommend to anyone looking for a new mattress."
- Bonnie Lynn - 5 Star

"My husband and I had great experience at The Mattress Outlet and can't imagine going anywhre else from now on. There is quality one-on-one time that you just won't find at another store. We never felt rushed and were treated with patience and kindness. I recommend anyone looking for a mattress to go to The Mattress Outlet."
- Brooke M. - 5 Star

"Thank you Doreen for a great experience in selecting our King-sized matress. Both my husband and I appreciate your knowledge and patience with s as we made our decision. An added bonus was the amazing price. We would have paid considerably more elsewhere. Folks, you must make an appointment with this business for your mattress needs."
- Clara T. - 5 Star

"I would like to recommend Mattress Outlet Hickory. Wereceived our product in a timely manner. James came and set it up. The Crytal Gel Memory Mattress is everything they advertised andmore. Best night;s sleep ever. Sure beats sleeping in the recliner. Go talk to them. You won't be disappointed. Prices andpruducts are great. I'm one happy 'sleeper'".
- Sherry B. - 5 Star

"Very niice and easy to get along with. Listened to me change my mind 100 times and never complained."
- Barbie W. - 5 Star

"About a year ago I bought a great king size mattress for a good price! Still sleeping great!"
- Zachary R. - 5 Star

"Just bought a twin size mattress. Lady was super nice and quick and easy".
- April T. - 5 Star
---