Who's Online
We have 38 guests online
Counter
Content View Hits : 302657

Avery, NC

---
WOW! NEW! TAXI SERVICE!
Good for local and long distance rides.
Call LeeBob - 828-789-9958
Restaurant & Bar Service - Any weather, Any Season
Man-oh-man; when you need one, you gotta have one; Especially when you see the blue light special around the corner.
LeeBob - 828-789-9958
Be Still And Give Him the Call
---
Sponsored by:
Wahoo's Adventures; Boone, NC

________________________________________________________________________________________
The Temple of the High Country is having a musical fundraising event, "An Evening with the Kruger Brothers" on August 23rd at 7:30pm at Rosen Concert Hall on ASU Campus. To learn more about the Kruger Brothers you can visit their website, and even listen to music at
http://www.krugerbrothers.com/.
Purchasing Tickets:
$25 - General Admission
$75 - Prime seating, Prime parking, Post-Concert Champagne and Dessert Party with the Kruger Brothers.
Tickets can be purchased only through the Box Office at the Schaefer Center at ASU by 3 different methods:
1. Call 800-841-2787.
2. Go to the Schaefer Center Box Office at 733 River St, Boone, NC.
3. Online at:
http://purchase.tickets.com/buy/TicketPurchase?organ_val=21217
Please note there is a $2 service fee for purchasing tickets online or over the phone. The physical Box Office on ASU Campus will be closed July 26th-August 19th, and tickets will only be available online during that time period.
______________________________________________________________________________
SHAG AT SUGAR
FREE ADMISSION


SATURDAY AUGUST 23, 2014




4:30-9 pm


LIVE MUSIC, DANCING, FOOD VENDORS, KIDS PLAY AREA, DOOR PRIZES, DANCE LESSONS
COME FOR A SHAGGING GOOD TIME!
SUGAR MOUNTAIN GOLF CLUBHOUSE
1054 SUGAR MOUNTAIN DRIVE
828-898-9292
WWW.SEESUGAR.CO
VILLAGE.SEESUGAR.COM
_________________________________________________________________________________
GRANDFATHER MOUNTAIN STATE PARK FAMILY DAY
Sat, August 23, 2014

|

10:00 a.m. – 4:00 p.m.
Location:
Foscoe Grandfather Community Center
, 233 Park Road, Banner Elk, NC 28604
Grandfather Mountain State Park Family Day will be held

August 23, 2014 from 10 a.m. to 4 p.m.

at the Foscoe Grandfather Community Park. DIRECTIONS: http://goo.gl/maps/Wtwgd.
Participants will have the opportunity to earn a State Park Stewardship Certificate by participating in fun activities.
Scheduled Programs:
Linville Search & Rescue K-9 Team Demonstration:

10:30AM to 11:00AM
Stream Ecology:

11:00AM to 12:00PM
Metamorphosis Relays:

12:30 to 1:00PM
Stream Ecology:

1:00PM to 2:00PM
History of Grandfather Mountain Presentation

2:00PM to 2:30PM
Stream Ecology:

2:30PM to 3:30PM
Many Hats of a Ranger Skit:

3:30PM to 4:00PM
Special Family Day Hike -
meet at Lowes Foods parking lot at

8:30AM

for shuttle. Pre-registration required, please call
828-963-9522 or email: This e-mail address is being protected from spambots. You need JavaScript enabled to view it to pre-register.
Arts and Crafts, Lepidoptera activities, new camping and hiking gear exhibit and much, much more! There is something fun for kids and adults alike!
Live Music throughout the day, sponsored by ASU's Split Rail Records. Please contact the park office at 828.963.9522 or This e-mail address is being protected from spambots. You need JavaScript enabled to view it for more information.
Profile Trail Hikes / Family Day Event
Sat, August 23, 2014 |

8:30 a.m.

(Duration varies depending on choice of hike)
Meeting Location: Lowe's Grocery Parking Lot by McDonalds (intersection of hwys. 105 and 184)
PRE-REGISTRATION IS REQUIRED:
Call 828.963.9522 or Email: This e-mail address is being protected from spambots. You need JavaScript enabled to view it
As part of Grandfather Mountain State Park's Family Day Event on

August 23

, Boone's very own hiking club, The Chargers and Re-Chargers are leading hikes of varying difficulty levels on the Profile Trail. If you ever wanted to tackle the Profile, but needed a little encouragement, this is your chance! Experienced Hike Leaders will lead the hikes and local Naturalist Bob Cantu will share knowledge of the native flora and fauna found along the trail. All hikers are welcome and may choose from the following hiking options:
Easy: two mile round trip with a 100'elevation gain
Moderate: 3.5 mile round trip to Foscoe View with a 500' elevation gain
Strenuous: 5.5 mile round trip to Shanty Springs with a 1,600' elevation gain
Very strenuous: 7 mile round trip to Calloway Peak with a 2,046' elevation gain
Hikers on the easy hikes will return by

12:30pm

, which will leave time to participate in other Family Day events. The Shanty Springs and Calloway Peak hikes will take most of the day. Please wear sturdy hiking boots, bring snacks and water, dress in layers and bring a rain jacket. Don't forget your hiking poles if you use them.
Hike leaders are providing a shuttle for hikers from the Lowes Grocery Parking Lot, near McDonalds (intersection of Hwy 105 and 184) to the small Profile parking lot. Hikers are to meet at Lowe's at

8:30am

. The shuttle will leave the parking lot promptly at

9am

.
______________________________________________________________________________________
As the summer winds down there are still two concerts planned for Tate-Evans Park. The next band is The DeLuge, a new comer to the Banner Elk scene. This band mixes blues, funk and rock to create a driving sound. While they are praised for their first two albums, their real impression is made on stage!
Featuring Brandon Knox on Vocals/Harmonica, Christopher Lord on Guitar/Keys/Vocals, Daniel Seriff on Guitar/Vocals/Mandolin, George Westberry on Bass/Vocals, and Jonathan McMillan on Drums/Percussion.
The concert is free Thursday 21 August and begins at 6:30pm.
This concert is sponsored by Lees-McRae College. Lees-McRae is a four-year, coeducational residential college offering diverse baccalaureate degrees, strong athletic programs and outstanding faculty.
For more information about the concert series call 828-898-8395 or visit www.bannerelk.org
_____________________________________________________________________________________________________________________________
Jane Deavers owner of the Dande Lion in Banner Elk challenges local business to decorate bras donated by The Dande Lion. The decorated bras will be displayed at The Dande Lion where customers and supporters vote for their favorites by placing donations in the box corresponding to each bra. This all goes back to the community and interested businesses can contact Linda or Jane to get involved. The contest runs throughout September and a donation will be made

October 1st

to the Wilma J. Redmond Fund just in time for National Breast Cancer Awareness month.
For more information contact The Dande Lion located at Shoppes of Tynecastle or call 828-898-3566
---
2014 Cruise-In Newland, North Carolina
4th of July Car Show Rock Gym in Newland 9:00am – 5:00pm
July 18 Senior Citizen Center, Newland 5:00pm – 9:00pm
August 15 Senior Citizen Center, Newland 5:00pm – 9:00pm
August 31 Elk Park Car Show, Hicks Trucking 9:00am – 5:00pm
September 19 Senior Citizen Center, Newland 5:00pm – 9:00pm
October 18 Toys for Tots, Carolina BBQ, Newland 9:00am – 5:00pm
Anyone may join in on a cruise-in. This is an event that is meant to foster fellowship and friendship. Your car does not have to be a valuable classic in order for you to attend.
Contact Claude Buchanon @ 828-733-3558 for more information
---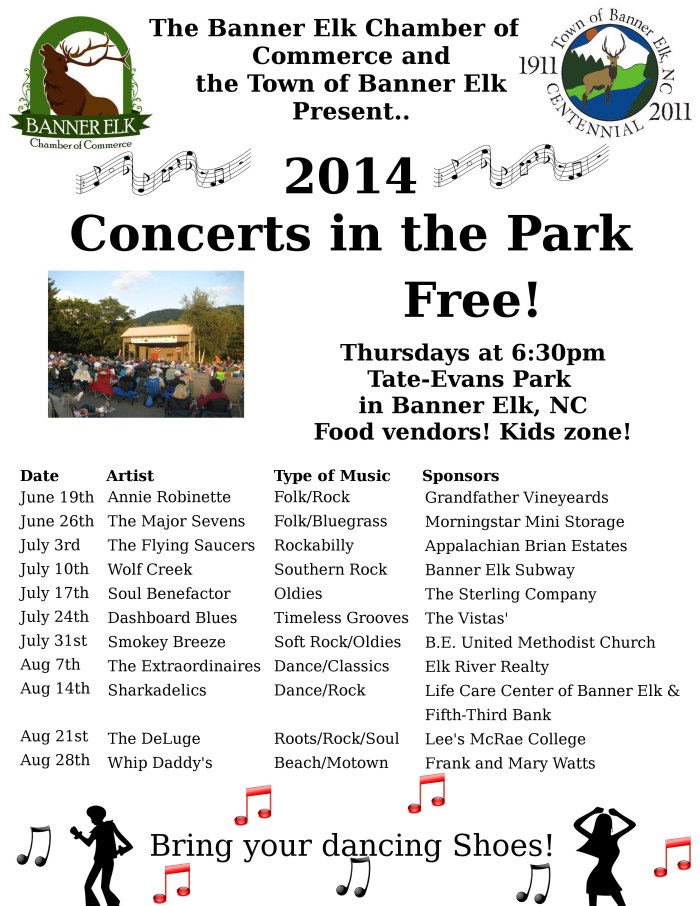 ---
Here is the band line-up for the FREE RIVERWALK concert series held in Newland
every Friday night!


20-Jun-14
Nautical Wheelers
Americana
27-Jun-14
Swing Set
Swing
4-Jul-14
Tommy Z Band -

Fireworks

Blues
11-Jul-14
Mountain Laurels
Celtic
18-Jul-14
J J L Band
Rock n Roll
25-Jul-14
Jesse Smith(6PM-7:30PM)
Standard Mix
Elvis Show (7:45PM-9PM)
John Greene
1-Aug-14
The Lucky Strikes
Classic Mix
8-Aug-14
Red Dirt Revelators
Rocking Blues
15-Aug-14
Tone Blazers
Bluegrass
22-Aug-14
Moore Brothers Band -

Fireworks

Newgrass/Blues
---
AskAvery is Also Sponsored by:


The Shady Lawn Lodge; Newland, NC

---
NOTICE!
CLICK HERE FOR PICTURES OF THE WEEK
All of Avery County, North Carolina Official Information

Police
All Emergencies: Call 911
Area Code 828
Avery County Sheriff's Dept: 733-5855
Banner Elk Police Dept: 898-4300
Beech Mountain Police Dept: 387-2342
Crossnore Police Dept: 733-2023 or 2024
Elk Park Police Dept: 733-9573
Newland Police Dept: 733-2023 or 2024
Sugar Mountain Police: 898-4349
Avery Citizens Against Domestic Abuse (ACADA) 733-3512
Fire and Rescue
All Emergencies: Call 911
Area Code 828
Banner Elk Fire Dept: 898-4623
Beech Mountain Fire Dept: 387-2342
Crossnore Fire Dept.: 733-5555
Elk Park Fire Dept: 733-5555
Frank Volunteer Fire Dept: 733-9336
Green Valley Fire Department: 765-5555
Linville Fire Dept: 733-2188
Linville-Central Rescue Squad: 733-2346
Newland Fire Dept.: 733-5555
Medical
All Emergencies: Call 911
Cannon Memorial Hospital
434 Hospital Drive Linville, NC
828-737-7000
Watauga Medical Center
336 Deerfield Dr. Boone, NC
800-443-7385 or 828-262-4100
Spruce Pine Community Hospital
125 Hospital Dr. Spruce Pine, NC
828-765-4201
Avery Citizens Against Domestic Abuse
(ACADA) 733-3512
Places of Worship
Aaron Church
Arbor Dale Church
Ashley Chapel
Banner Elk Presbyterian Church on Lees McRae Campus
Beech Creek Church
Beech Creek Mountain Church
Beech Mountain Church
Beech Valley Church
Belview Church
Big Meadow Church
Blevins Creek Chapel
Buck Hill Church
Burleson Chapel
Calvary Church
Conley Chapel
Crab Orchard Church
Crossnore Presbyterian Church (828) 733-1939
Curtis Creek Church
Fairview Church
Fall Creek Church
First Baptist Church of Glen Alpine - (828) 584-0312
Fletcher Chapel
Forest Home Church
Frank Church
Green Valley Church
Hanging Rock Chapel
Henson Creek Church
Higher Ground Worship Center
Hopkins Chapel
Ivy Heights Church
Lewis Chapel
Little Elk Church
Little Plumtree Church
Long Ridge Church
McCoury Rock Church
Midway Church
Mount Calvary Church
Mount Gilead Church
Mount Pleasant Church
Mount Zion Church
New Cross Church
New Hopewell Church
Newland Presbyterian Church
Oak Grove Church Newland
Peoples Church
Pine Grove Church
Pisgah Church
Pleasant Hill Church
Pleasant Valley Church
Powdermill Church
River of Life Church, 48 High Country Square, Banner Elk, NC 28604 ~ 828-297-6646
Roaring Creek Church
Saint Bernadette Catholic Church, Linville, NC ~ 828-898-6900
Shelter Rock Ministries
Sloop Chapel
Smoky Valley Chapel
Sugar Mountain Church
Taylor Chapel
Union Church
Valley Haven Church
Vance Memorial Church
Walnut Grove Church
Whites Memorial Church
Yellow Mountain Church

Area Schools
http://www.all4ed.org/
http://high-schools.com/north-carolina.html
http://elementaryschools.org/north-carolina.html
Avery County High School; 401 High School Rd., Newland
828-733-1501
Avery County Middle School; 102 Old Montezuma Rd., Newland
828-733-0145
Banner Elk Elementary School; 185 Azalea Circle
828-898-5575
Beech Mountain Elementary School; 60 Flat Springs Rd., Elk Park
828-898-4343
Cranberry Middle School; 6320 Hwy 19E
828-733-2932
Crossnore Elementary School; 200 Bell Lane, Crossnore
828-733-2145
Grandfather Academy (private); Hickory Nut Gap Rd., Banner Elk
828-898-3868
High Country Christian School; 1551 Tynecastle Rd., Banner Elk
828-898-3677
Newland Elementary School; 750 Linville St., Newland
828-733-4911
Riverside Elementary School; 8020 US Hwy 19E Plumtree
828-765-9414

Government Offices
Avery County Central Dispatch
828-733-3858
Banner Elk Town Hall;
200 Park Ave.
Banner Elk, NC 28604
828-898-5398
Beech Mountain Town Hall
828-387-4236
Elk Park City Hall
169 Winters St.
Newland, NC 28657
828-733-9573
Newland Town Hall
301 Cranberry St.
Newland, NC 28657
828-733-2023
Sugar Mountain Town Hall
237 Townsend Dr.
Sugar Mtn, Banner Elk, NC 28604
828-898-9292
Avery Citizens Against Domestic Abuse
(ACADA) 733-3512


Utilities
Mountain Electric Cooperative
PO Box 1240
Newland, NC 28657
828-733-0159
828-733-3213 (fax)
Contact: William D. Caraway
This e-mail address is being protected from spambots. You need JavaScript enabled to view it
www.mountainelectric.com
Piedmont Natural Gas
Residential Contact / Commercial Contact
Tom Ellis
This e-mail address is being protected from spambots. You need JavaScript enabled to view it
phone: 800-752-7504
P.O.Box 218
6781 Hwy 19E
Spruce Pine, NC 28777
http://www.piedmontng.com
Skyline Telephone Membership Corp.
PO Box 759
West Jefferson, NC 28694
828-898-1350
800-759-2226 (toll-free)
828-963-1527 (fax)
Contact: Karen Powell
This e-mail address is being protected from spambots. You need JavaScript enabled to view it
www.skyline.org
Building Permits and Inspections
Tommy Burleson/Jason Vance
Code Enforcement Officer
PO Box 596
Newland, NC 28657
(828) 733-8204
fax: (828) 733-7003
Water Quality Lab & Wastewater Treatment
1522 Tynecastle Highway
P O Box 1167
Banner Elk, NC, 28604
828-898-6277

Zip Codes & Phone Exchanges (828 area)
28622 - Beech Mountain (260, 387), Cranberry (733), Heaton (898), Elk Park (733)
28604 - Balm (898), Banner Elk (260, 783, 897, 898), Foscoe (963, 898), Seven Devils (963), Sugar Mountain (898)
28657 - Crossnore (733), Linville (733), Minneapolis(733), Newland (733, 737), Pineola (733), Plumtree (733)
28605- Edgemont (733), Jonas Ridge (733)
---
Word of the Day