Who's Online
We have 33 guests online
Counter
Content View Hits : 386180

Avery, NC

---
WOW! NEW! TAXI SERVICE!
Good for local and long distance rides.
Call LeeBob - 828-789-9958
Restaurant & Bar Service - Any weather, Any Season
Man-oh-man; when you need one, you gotta have one; Especially when you see the blue light special around the corner.
LeeBob - 828-789-9958
Be Still And Give Him the Call
---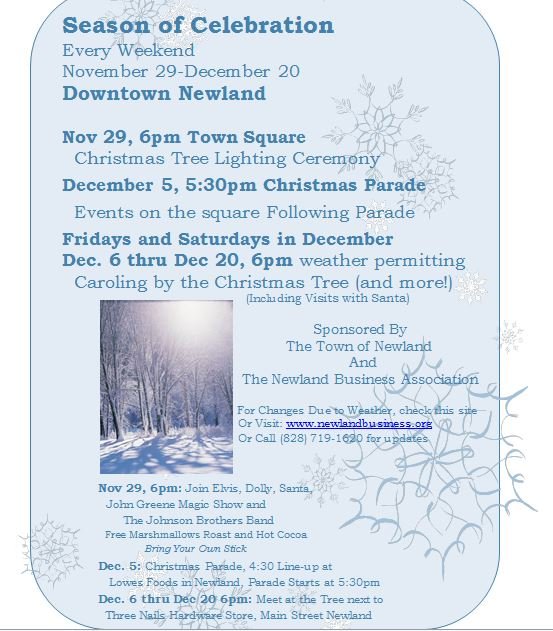 ---
1ST ANNUAL MISS FRASER FIR PAGEANT
SATURDAY, NOVEMBER 15, 2014 6:00 P.M. – NEWLAND ELEMENTARY
CHAIRPERSONS: DONETTA MCKINNEY -828-733-5199
AMY SOUTHERN- 336-416-0280
ENTRY FORM MUST BE RECEIVED BY 5:00 P.M., FRIDAY, NOVEMBER 1, 2014 OR UNTIL THE MAXIMUM OF 25 IS REACHED IN EACH CLASS
Rehearsal: SATURDAY, NOVEMBER 8, 2014
10:00 A.M. BABY MISS, WEE MISS, TINY MISS
12 NOON LITTLE MISS, LITTLE MISS PRE TEEN
Newland Elementary GYM.
RULES:
1. CONTESTANTS MUST PAY AN ENTRY FEE OF $25.00. ENTRY FEE MUST
ACCOMPANY REGISTRATION FORM AND IS NON-REFUNDABLE.Cash,
Check or Money Order is accepted. Please made Check or Money order
payable to NEWLAND BUSINESS ASSOCIATION.
Mail to: Donetta McKinney, PO Box 9, Newland, NC 28657 or hand deliver to my
Office at 499 Sokassa Road, Newland, NC 28657 between the hours of 9:00 A.M.
until 5:00 P.M. Monday through Friday.
2. A QUEEN AND FOUR RUNNERS-UP WILL BE CHOSEN IN EACH AGE DIVISION.
QUEENS WILL RECEIVE A BEAUTIFUL TROPHY, CROWN AND WRAP AROUND
SASH. ALL OTHER CONTESTANTS WILL RECEIVE A NICE TROPHY. THE 2014
TITLE HOLDERS ARE REQUIRED TO REPRESENT THEIR TITLE IN THE 2014
NEWLAND CHRISTMAS PARADE.
AGE DIVISIONS
BABY MISS-DIVISION: 6 MONTHS-1 YEAR
WEE MISS- DIVISION: 2-3 YEARS
TINY MISS- DIVISION: 4-5 YEARS
LITTLE MISS – DIVISION 6-9 YEARS
LITTLE MISS PRE-TEEN-DIVISION: 10-12 YEARS
3. CONTESTANTS MAY WEAR A HOLIDAY DRESS OF HER CHOICE.
(NO PAGEANT ATTIRE WEAR ALLOWED)
4. CONTESTANTS WILL BY JUDGED ON BEAUTY, CUTEST, AND PERSONALITY.
5. ALL PARTICIPANTS MUST ABIDE BY THE GUILDLINES SET UP BY THE PAGEANT
COMMITTEE.
LITTLE MISS PHOTOGENIC CONTEST
A MISS PHOTOGENIC QUEEN WILL BE CHOSEN IN EACH AGE DIVISION.
WINNERS WILL BE ANNOUNCED AT THE MISS FRASER FIR CONTEST ON SATURDAY, NOVEMBER 15, 2014 AT THE NEWLAND ELEMENTARY GYM.
1. CONTESTANT MUST HAVE ENTERED THE MISS FRASER FIR CONTEST TO BE ELIGIBLE TO ENTER THE MISS PHOTOGENIC CONTEST.
2. ***CONTESTANT MUST BRING EITHER A 5X7 OR AN 8X10 PICTURE TO THE MISS FRASER
FIR PRACTICE ON SATURDAY, NOVEMBER 8, 2014. NO FRAME PLEASE.***
3. CONTESTANT'S NAME, AGE, ADDRESS, AND PHONE NUMBER MUST BE ON THE BACK OF PHOTOGRAPH.
4. A NON-REFUNDABLE ENTRY FEE OF $10 MUST ACCOMPANY THE ENTRY FORM.
5. PICTURES MUST BE PICKED UP THE NIGHT OF THE PAGEANT.
FOR INFORMATION CALL: DONETTA MCKINNEY 828-733-5199 OR 828-260-1992.
___________________________________________________________________
NOTICE!
CLICK HERE FOR PICTURES OF THE WEEK
All of Avery County, North Carolina Official Information

Police
All Emergencies: Call 911
Area Code 828
Avery County Sheriff's Dept: 733-5855
Banner Elk Police Dept: 898-4300
Beech Mountain Police Dept: 387-2342
Crossnore Police Dept: 733-2023 or 2024
Elk Park Police Dept: 733-9573
Newland Police Dept: 733-2023 or 2024
Sugar Mountain Police: 898-4349
Avery Citizens Against Domestic Abuse (ACADA) 733-3512
Fire and Rescue
All Emergencies: Call 911
Area Code 828
Banner Elk Fire Dept: 898-4623
Beech Mountain Fire Dept: 387-2342
Crossnore Fire Dept.: 733-5555
Elk Park Fire Dept: 733-5555
Frank Volunteer Fire Dept: 733-9336
Green Valley Fire Department: 765-5555
Linville Fire Dept: 733-2188
Linville-Central Rescue Squad: 733-2346
Newland Fire Dept.: 733-5555
Medical
All Emergencies: Call 911
Cannon Memorial Hospital
434 Hospital Drive Linville, NC
828-737-7000
Watauga Medical Center
336 Deerfield Dr. Boone, NC
800-443-7385 or 828-262-4100
Spruce Pine Community Hospital
125 Hospital Dr. Spruce Pine, NC
828-765-4201
Avery Citizens Against Domestic Abuse
(ACADA) 733-3512
Places of Worship
Aaron Church
Arbor Dale Church
Ashley Chapel
Banner Elk Presbyterian Church on Lees McRae Campus
Beech Creek Church
Beech Creek Mountain Church
Beech Mountain Church
Beech Valley Church
Belview Church
Big Meadow Church
Blevins Creek Chapel
Buck Hill Church
Burleson Chapel
Calvary Church
Conley Chapel
Crab Orchard Church
Crossnore Presbyterian Church (828) 733-1939
Curtis Creek Church
Fairview Church
Fall Creek Church
First Baptist Church of Glen Alpine - (828) 584-0312
Fletcher Chapel
Forest Home Church
Frank Church
Green Valley Church
Hanging Rock Chapel
Henson Creek Church
Higher Ground Worship Center
Hopkins Chapel
Ivy Heights Church
Lewis Chapel
Little Elk Church
Little Plumtree Church
Long Ridge Church
McCoury Rock Church
Midway Church
Mount Calvary Church
Mount Gilead Church
Mount Pleasant Church
Mount Zion Church
New Cross Church
New Hopewell Church
Newland Presbyterian Church
Oak Grove Church Newland
Peoples Church
Pine Grove Church
Pisgah Church
Pleasant Hill Church
Pleasant Valley Church
Powdermill Church
River of Life Church, 48 High Country Square, Banner Elk, NC 28604 ~ 828-297-6646
Roaring Creek Church
Saint Bernadette Catholic Church, Linville, NC ~ 828-898-6900
Shelter Rock Ministries
Sloop Chapel
Smoky Valley Chapel
Sugar Mountain Church
Taylor Chapel
Union Church
Valley Haven Church
Vance Memorial Church
Walnut Grove Church
Whites Memorial Church
Yellow Mountain Church

Area Schools
http://www.all4ed.org/
http://high-schools.com/north-carolina.html
http://elementaryschools.org/north-carolina.html
Avery County High School; 401 High School Rd., Newland
828-733-1501
Avery County Middle School; 102 Old Montezuma Rd., Newland
828-733-0145
Banner Elk Elementary School; 185 Azalea Circle
828-898-5575
Beech Mountain Elementary School; 60 Flat Springs Rd., Elk Park
828-898-4343
Cranberry Middle School; 6320 Hwy 19E
828-733-2932
Crossnore Elementary School; 200 Bell Lane, Crossnore
828-733-2145
Grandfather Academy (private); Hickory Nut Gap Rd., Banner Elk
828-898-3868
High Country Christian School; 1551 Tynecastle Rd., Banner Elk
828-898-3677
Newland Elementary School; 750 Linville St., Newland
828-733-4911
Riverside Elementary School; 8020 US Hwy 19E Plumtree
828-765-9414

Government Offices
Avery County Central Dispatch
828-733-3858
Banner Elk Town Hall;
200 Park Ave.
Banner Elk, NC 28604
828-898-5398
Beech Mountain Town Hall
828-387-4236
Elk Park City Hall
169 Winters St.
Newland, NC 28657
828-733-9573
Newland Town Hall
301 Cranberry St.
Newland, NC 28657
828-733-2023
Sugar Mountain Town Hall
237 Townsend Dr.
Sugar Mtn, Banner Elk, NC 28604
828-898-9292
Avery Citizens Against Domestic Abuse
(ACADA) 733-3512


Utilities
Mountain Electric Cooperative
PO Box 1240
Newland, NC 28657
828-733-0159
828-733-3213 (fax)
Contact: William D. Caraway
This e-mail address is being protected from spambots. You need JavaScript enabled to view it
www.mountainelectric.com
Piedmont Natural Gas
Residential Contact / Commercial Contact
Tom Ellis
This e-mail address is being protected from spambots. You need JavaScript enabled to view it
phone: 800-752-7504
P.O.Box 218
6781 Hwy 19E
Spruce Pine, NC 28777
http://www.piedmontng.com
Skyline Telephone Membership Corp.
PO Box 759
West Jefferson, NC 28694
828-898-1350
800-759-2226 (toll-free)
828-963-1527 (fax)
Contact: Karen Powell
This e-mail address is being protected from spambots. You need JavaScript enabled to view it
www.skyline.org
Building Permits and Inspections
Tommy Burleson/Jason Vance
Code Enforcement Officer
PO Box 596
Newland, NC 28657
(828) 733-8204
fax: (828) 733-7003
Water Quality Lab & Wastewater Treatment
1522 Tynecastle Highway
P O Box 1167
Banner Elk, NC, 28604
828-898-6277

Zip Codes & Phone Exchanges (828 area)
28622 - Beech Mountain (260, 387), Cranberry (733), Heaton (898), Elk Park (733)
28604 - Balm (898), Banner Elk (260, 783, 897, 898), Foscoe (963, 898), Seven Devils (963), Sugar Mountain (898)
28657 - Crossnore (733), Linville (733), Minneapolis(733), Newland (733, 737), Pineola (733), Plumtree (733)
28605- Edgemont (733), Jonas Ridge (733)
---
Word of the Day